2005 International Robots & Vision Show
Rosemont (Chicago), IL
We attended many exhibits and a few special events at the show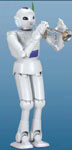 Spirit of Innovation Luncheon
Keynote Address by Dr. Yasuhiro Ota, Toyota

Toyota Motor Corp. has developed unique "Partner Robots" for use as personal assistants to humans. These robots have the ability to manipulate tools in an intelligent and gentle way and have many other human-like characteristics (including the ability to play musical instruments). We learned about why the project was started, current and future design concepts and possible applications in elder care, manufacturing, and human mobility.
Robonaut and Future Assembly of the

International Space Station

Speaker: Michael Lutomski, Risk and Mission Assurance Manager, NASA International Space Station
Robonaut is a humanoid robot designed by the Robot Systems Technology Branch at NASA's Johnson Space Center in a collaborative effort with DARPA. The Robonaut project seeks to develop and demonstrate a robotic system that can function as an astronaut equivalent on spacewalks. Working side by side with humans, or going where the risks are too great for people, machines like Robonaut will expand our ability for construction and discovery.